I heard of RB a long time ago. I've finally decided to give it a go. It is extremely simple and very straight forward to follow. Manuals are very easy to understand. I've 100% committed to the RB strategy of VB and putting in as many bets per day as I can.
Below are my first 500 bets after 11 days of value betting. I know it's not quite at critical mass yet but I'm well on the way to hit over 1k bets in under 30 days.
I started with $500. Bet365 - 85% of bets & unibet 15% of bets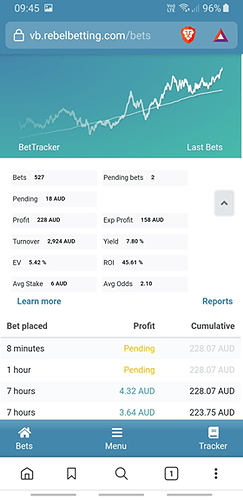 Practically all betting companies left Australian shores due to a large tax increase for memory. So we don't have many options in regards to betbooks for RB software. Hopefully some more Australian companies are added in future.