Just here to post my results. I am going to reset all my bets since I got confused . I recorded them all in an excel sheet so I am not loosing data. My plan is to reach 10k bets. I have access to many soft bookies, and also to my friend's accounts so limitations are not an issue now.
Value from 1.5-99
Kelly 30%
1000$ bank
1.5% Max stake
Odds from 1.50-6.00
7 hours before game start
BetClic, BetCris, 888Sports, Bethard, 10Bet, Coolbet, Sportingbet and Betsson
I try to keep my avg odd close to 2, so the variance will be lower. My main idea is to use all the soft bookies in Rb, then use my friend's accounts and in some point switch to asian brokers as Asianconnect. I am studying (virtual classes) and have a lot of time to place bets. I still don't think vb is a "real" job unless u have a big bank and manage asian brokers, so I see this as a way to earn extra money, maybe to buy books or buy gifts for my girlfriend. Btw, my English is not the best.
I have purchased a three month subscription. These were the results of my first month: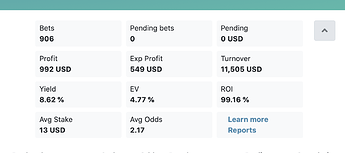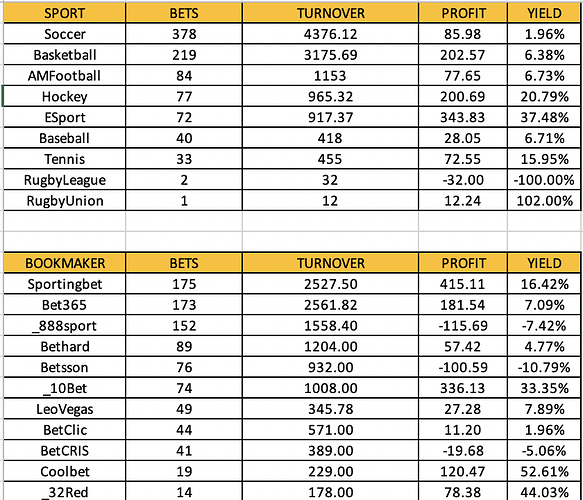 Good yield at Esports and Hockey. I need a couple of thousand bets to analyze the results and give an informed opinion. Meanwhile I will continue registering bets.