Hi, folks.
I did not find a relevant topic, so I created a new one.
I recently became interested in arbitration. I have bought RebelBetting (sure betting) and opened a few accounts in bookies. One of them is Betfair.
I have created an account there on the 28th of Oct and made a small deposit. I made a couple of a back and lay bets (matched free bets), having turnover a deposit amount 2 times, and at the moment, I have 1.5 deposits on my balance.
Yesterday (or the day before yesterday) I set up a Betfair login in RebelBetting software. I do not use any other software. And today the following letter came: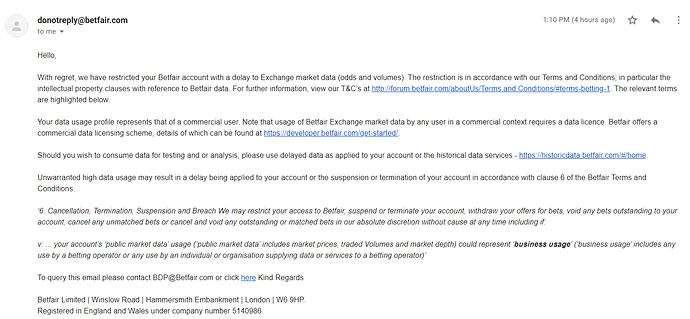 I googled a little and realized that this is because RebelBetting uses Betfair API.
But I still have questions:
Does this data delay apply only to RebelBetting soft or to a web browser too?
Can I continue betting on Betfair as usual? And this is just some technical nuance. Or are my odds incorrect (not in time) and should I wait?
What to write to Betfair support, are there any recommendations? Can I directly tell them that I use Rebelbetting, and I want to continue to bet? Who had similar cases?
Thanks for any help.