Could someone explain how an arb occurs in the following example?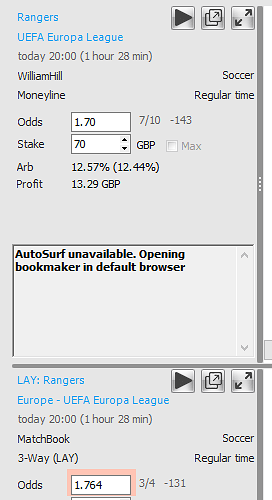 As I see it, and I'm hoping I am way off the mark here, the only way a profit will be made is if no draw occurs. And it will be a decent profit. But the loss on the draw makes no sense. There's no arbitrage here as far as I can tell.
Rangers win
1.7*70 - 21.39 - 14.32 = 83.29
Draw
27.99 - 70 - 14.32 = -56.33
BSC Old Boys win
4.95*14.32 + 21.39 - 70 = 22.27
The draw is by far the worst outcome. But I'm supposed to be building an arbitrage not a bet.
I was wondering if I misunderstood what "3-Way" meant, but nope, it seems to mean exactly what you'd think it means.
I looked through all the markets on both sites and nothing else matched the odds, so it seems to be plain and simple. But I cannot see the arbitrage.
I'm obviously missing something. Can someone explain this to me? Use baby words if needed because I'm clearly being thick.