Hi Everyone,
I open this topic to freely brainstorm about value betting based on basic statistical analysis. I want to keep the analysis as simple as possible and I know that my current data set is not representative because I have just started value betting a few days back.
The goal of this topic is twofold:
1.) I guess I am not the only one who won't always have enough time to place daily 150-200 bets in long-term at the same time I definitely want to do this for a while to see how profitable this approach (value betting) is.
2.) Because of the nature of betting some variance will always hit our ROI. I believe some sort of control should be in place to mitigate the ups and downs due to variance. I don't think that blindly play all bets will be a profitable strategy in a 1 year period, at least not for everyone. There are too many factors to play with and I will be very transparent with my data.
After a lengthy introduction let's jump into the middle. In below pivot tables I separated the bets into two categories: type of sport and bookmaker. Yes, I did the leg work and checked all bets one-by-one to be able to pull these tables (1200 bets in total). Now we can have an idea how value betting (will) work(s) for different sports: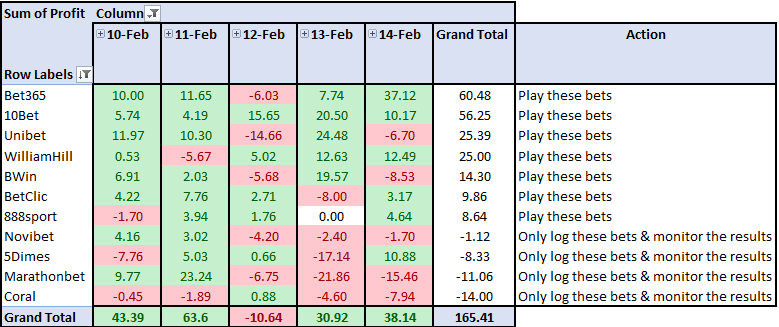 "Action" is a suggestion that I will follow based on the interpretation of the data.

As an outcome of these two pivot tables above what I would do today is:
Log all bets regardless the type of sport or bookmaker
Play bets (invest money) for the 7 bookmakers in Hockey, Soccer and Tennis
Appreciate if you share your thoughts with me. Is this a crazy idea? Do you see value in this?