Turn Off adjusting fit Open Bets
This was helpfull for me
CLV is a bit low. It probably means, the odds were moving against you after you placed your bets, which probably (more often than not) means the other end of the bet is "correct".
I always place them at the recommended odds + stake so not sure why?
1.40 odds is quite low. Usually favorites are heavily juiced. I personally prefer 1.70+
2.50 is ok for now, and maybe you could try 2.80. Don't be afraid of higher odds.
24 hours before match start is quite a long time. During this time, a lot can happen. Sharp bettors would probably find value on the end of your bets and thus push the odds to move against you until cut-off. Lower odds are prone to this negative odds move, and sometimes higher odds will also move against you. You can try shorten the time frame to 12 hours. And you can also cross check Pinnacle odds via Oddsportal.com to increase your accuracy.
Blindly putting bets in the system will do on Unibet and other Kambi platforms, and also williamhill. But not usually the case on other bookies. Bet365 is a bit sharper than Unibet and Williamhill I think.
Thanks for the explanation man, ill give 15 hours + 1.5 - 2.90 a go and see what comes from it!
You are welcome, my friend. Hopefully, You can turn up your trend soon! Then, our biggest issue would soon be "where to get down (put bets)?"
BTW, you could try to increase min value to 3.9 and up for now to try to see the positive results. Bet365 is soft on Tennis and quite sharp on Soccer.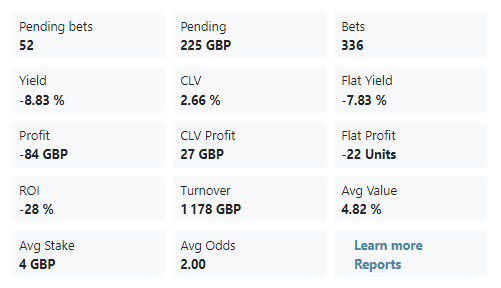 This is my update the last day and a half, was actually back to -£50 but ended up back down at -£84
CLV on the rise
1.8% max stake
30% kelly criteria
AFOB - off
3.5 - 20% values
1.4 - 2.90
any other tips?
I think you are improving. At least CLV is now higher. You can look at your detailed results data, and improve that a little. And keep on betting. Let variance do the work for you!
Personally, I am very cautious with overs in basketball. I think the margin is very small. And, I am also very cautious with women sports, except women tennis and WNBA. Probably because the liquidity is low and thus "the wisdom of the crowd" may not work very well.
Also, you can increase min value to 3.9 to 4.2
yeah, ive been placing bets about 4.2% and higher recently, so we'll see what happens mate!
Wish you the best, my friend!
Bet365's variance is not very friendly recently. I don't have Skybet. It's quite normal for the recent. In the long run, I believe we got the good software and strategy!
stop betting on the lower tier football and basketball or itf tennis even if they have big edge