Hello! Have you bet on over 6,000 games since March 14th? Which platform are you calling?
I have placed 1260 bet.
I use bet365 unibet e William hill
and u are already limited on william and unibet

Limited with William Hill not yet with unibet and bet365
ye, bet365 hold most atm, other 2 are soft
what settings, you playing lower odds only as i can see avg odd 1,95
No tennis, esport, and baseball for the moment
so only football and basketball
Do you just bet on any games that you find or do you do bet more on O/U or Asian Handicap etc… also do you restrict yourself in betting different O/U, AH+ or - and if so which ones don't you do!
I bet any games but tomorrow i Will try to analyze u/o football because i am not sure that It Is profictable
March seems to have been a great month for most users (including myself), median roi of 53%. Your strategy definitely seems to work since u are beating the clv with a substantial amount of bets. Congrats! It would be interesting to see your settings.
I don't get it tho cuz like I've had such a terrible first week and I feel like it's the bets that I'm making and that I'm betting on the worst ones that i get given… How do you chose which bets you take and what ones do you chose?
Can you show me a few screenshots of what type of bets you put on and your stats as of right now on the report please? Only if you have time! Thank you
hello, at the beginnig I used Kelly then I decided to always bet 100 and then 130 when the bankroll increased.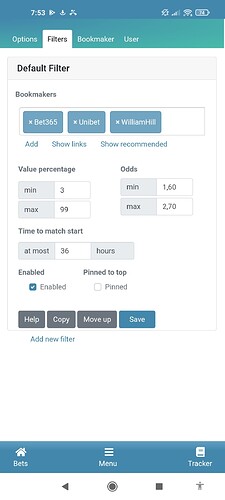 Can You tell me how big were initial deposits to the bookmakers You have listed above?