That is great. Please remember this feeling and keep up the spirit when the downswing comes.


Great advice Totrashbin1! we know the feelings well

Thanks for the advice

only playing with money that can be lost.
Still seeing strong results after a good weekend: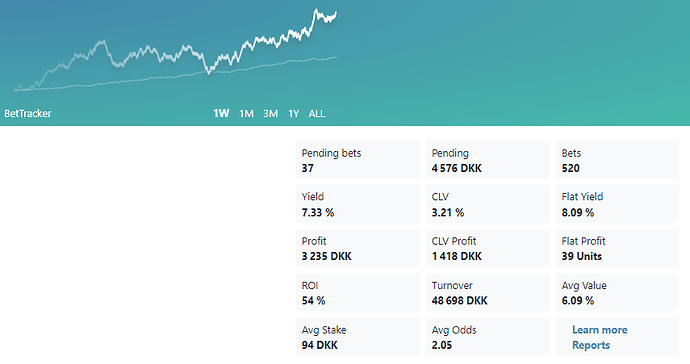 Do you have you max stake set at 1 or 1.5%?
My max stake is 1.5% since I don't mind big swings

Lol😅cos you haven't gone on one, you just started. Everyone minds big swings
That is why your flat yield is better than your yield.
I have used RB 6 days now and 500 bets. Im still -5% yield. How is this even possible that you started about same time and you have 7% yield? And same amount of bets? I have pretty normal options.
Because he's staking 1.5%? Or what?
Yes, it is most likely the most contributing factor.
Probably the best advice on this forum

You have to realize that it's not because you use the same software that you place the same bets

Just imagine you live in different time zones for example: it's extremely likely that you placed totally different bets. Hence it's totally likely that you are not (YET) profiting and he is profiting. With all due respect, I advice to really dig deeper into the theory behind value bettings and variance to make sure you understnd how your money is invested

Yeah im also using the kelly staking on 30%
Yea i know how value betting works and i am sure that i will make profit in long term but im still confused IF Nilaus use also bet365 because i have done almost 100 bets per day and i think we have to have a lot same bets
Yeah but your answer is probably already answering your question. What if he's made only 50 bets per day. Then you get a delta of 50 different bets already. Anything can happen, you are in another dimension of variance because your sample is significantly different.
Impressive results