Firstly I would like to think the rebelbetting team for this software, the system works and I've made a tidy profit. I will be taking a break from value betting for a while, because it has been quite a bit of effort to be constantly firing off bets all day and balancing this with my regular work. I thought it would be helpful to write a review/ give a few insights on my results + thoughts on how the user experience could be improved.
Firstly, as you will see from the below my results have been far from linear. After about 750 bets i'd made a grand total of £50 profit from an initial investment of £1k. At the time it felt like if put a lot of effort in for little reward.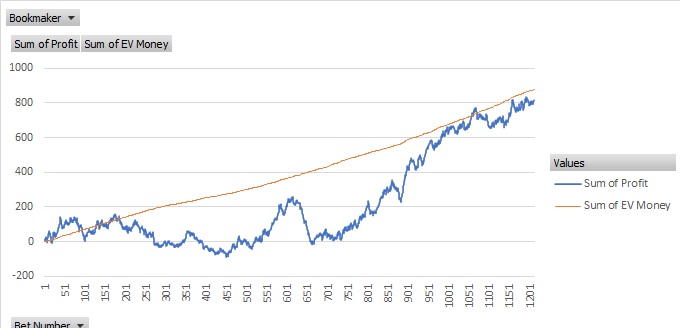 On one particularly poor day I lost around 20% of my starting bankroll Shortly after a pep talk from the support here things picked up and I saw a steady profit.
This may also be in part due to me tweaking my settings to try to reduce variance. I did this by copying data out the bet tracker into excel and looking at where I was/wasnt making money, e.g. i was losing most of my money at odds over 2.5 so I stopped betting on these unless the value was reasonably high (mostly 5 or 6%+).
My best markets were win & asian handicap and best sports were football and esport. I stopped betting on baseball/over under fairly early on.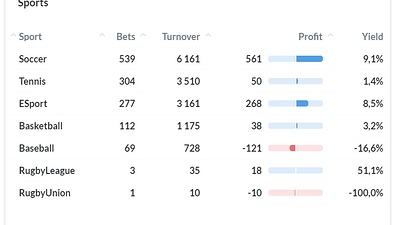 My main advice would be to try not to constantly check the tracker or follow individual bets, I was guilty of doing too much of this! Focus either on daily profit/loss or groups of 50 or 100 bets to track your progress. I did eventually start doing this myself in excel: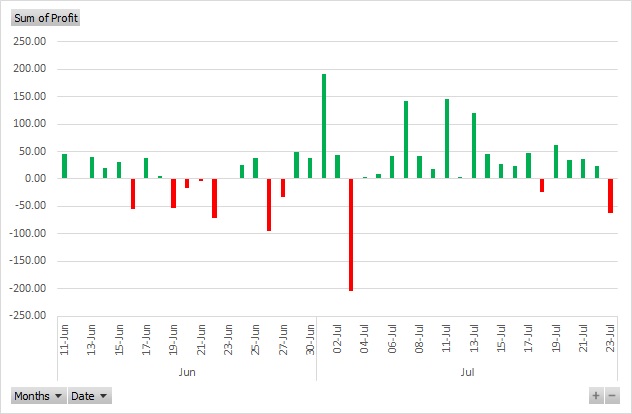 You will also get banned from bookmakers - I wasnt bothered about being selective about the leagues or matches i bet on so may have been restricted quicker than I could have been. This didnt bother me much as I dont see myself value betting for years anyway. In a weird way being banned from bookmakers actually lets you know that what you are doing is profitable!
Finally some things that I hope may be improved by the time I resume value betting:
Placed odds vs pinnacle/ betfair closing odds - If i know my average odds placed is 2.02 and my average closing odds are 1.95 then I know i should be profiting in the long run.
Ability to download your raw data - unless i missed something this isnt possible? I had to copy and paste data out the tracker and this omits a lot of important info
More access to overall combined user results - it would be good to see things like relationships between odds, value and the variance/profit they create using real rebelbetting data. Also yields for combinations of sports/bet types.
A statistical significance calculation in the reports section. When i contacted the support they were able to give me the probability that my initial results were just unlucky, perhaps this could be included as standard for users to see.