So I started with valuebetting on 2 November.
Min Value: 2%
Max Value: 99% ( never seen a higher value than 15%)
Min odds: 1,5
Max odds: 4,00
Time match start: 12 hours BUT I only place bets untill max 6 hour upfront unless I have no time for the next 12 hours.
Around 50-100 bets daily
Start stake: €300
Bookmakers: Bwin, Betway, ladbrokes, Unibet, Betfirst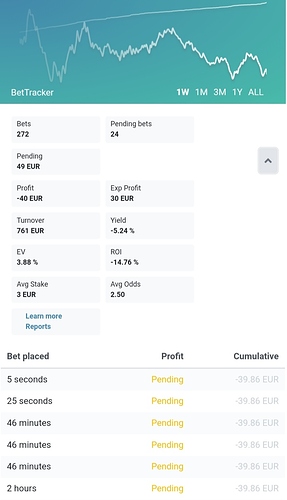 I have since the start only went to a max profit of € 9. Even tho with the insane amount of Value bets available daily it stays at the end of a day -30. Hopefully the varience will be less after many more bets & I will go into profit to eventually have a higher stake.
I believe in the maths but it currently does not look good.