Hello everyone, I"ll post all my updates here in case someone want to give advice. I started on June 1st. So far all it's good, think I had a lucky start but it's finishing.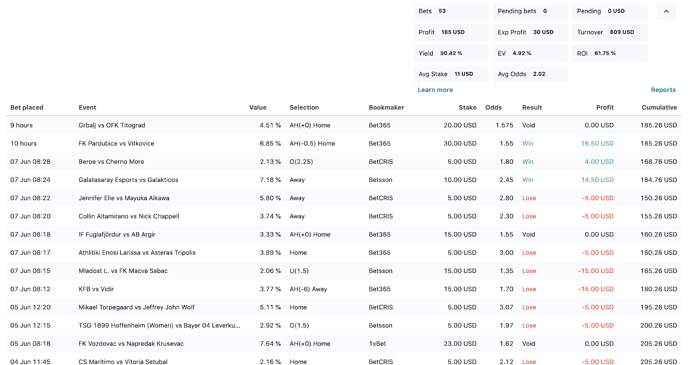 I started winning almost all my bets the first 4 days, but last three days were bad. My settings for this first week were:
Bank 1000 dollars (I just have 300 dollars as a real bank but I put 1000 because the stakes were to low for me)
Kelly 30%
Max stake 5%
Value from 2-10%
Odds range (1.30-3.10)
Match start below 4 hours, but mostly just 1 hour.
Football, Tennis, Esports and very few baseball games!!!
The last games were stressful for me, 1000 dollars as a bank was not a good idea. So I am changing my settings. Almost the same but I will change the odds range (1.5-2.8) Value (2.5-10) Bank $ 300, same match start and no more tennis. Hope to have good results!!!