My initial capital is 4000, and now the capital has reached 5100. I only bet on 365
Congratulations. That's a great start!

Just keep on betting and you'll profit even more. But please note that you'll much likely experience some downswings as well. So try to stay focused and trust the process, even if you have to take many losses in a row from time to time. Please read more about why the volume of bets matters.
After 300 bets. My initial capital is 576 €, and now there are 989 €. I only use 365 companies, but I didn't choose U / O competition. Please give me your opinions! Thank you very much.
how many bets do you put down manually on bet365 on average?
My bets keep changing.80>>100>>120>>160(now).Today I used RB for 20 days. I've doubled my principal
My seven days brother😂……and that make me to leave……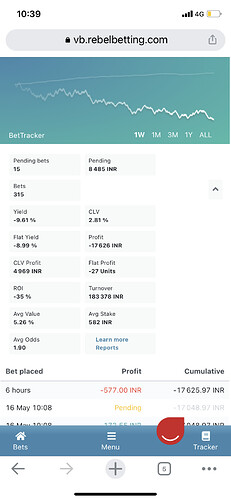 Hanna….plz give your reaction on my post also(okk)……nd my settings are all default
After 800 365 bets, I have made over 6000 and an ROI of over 150%