Hey all,
Since I'm near 10,000 bets I thought I would share my results and experience with the software for anyone that is interested.
Firstly I'm from the UK I tried value betting on most bookies and mainly got limited after £200-1000 profit however bet365 I seem to make £7000+ before I get limited.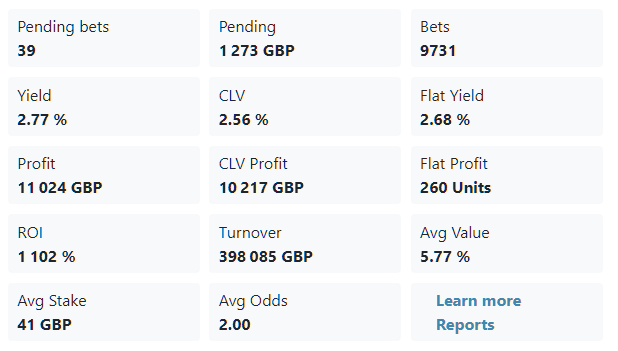 Settings:
My setting are pretty standard:
Kelly: 30%
Max stake: 2%
min odds: 1.4%
max odds: 2.9%
value percentage: 3-20% (For me when I get to 400+% ROI I tend to change the value to 4%)
Time until match start: 24 hours
In my first 2000 bets I changed my settings a lot however for my last 8000 bets I've kept the same.
Results:
I started with £1000 and made £8900 total in 5 months (January to May), roughly £7000-7500 from bet365 until I got limited. Due to this I was not motivated and covid stopped a lot of sports so I was barely putting any bets on until end of July. I started again with £1000 on my friends bet365 account and was quite unlucky for the first 2 months however I am now at £3000 ish.
Maximising profit:
Firstly I have only used value betting pro so I cant compare it to the starter. I would suggest paying monthly until a deal comes on (I'm thinking for Christmas they may have one) then I would buy one years worth and if its your first month take advantage of the profit guarantee.
If you are going to follow my strategy I would highly suggest depositing at least £1000, for my next account I will be trying £1500 however a deposit too high could be a red flag to bet365.
Thanks for reading, please post below if you have any questions i will be happy to answer any. If any of this information helped you in any way please feel free to use my referral link: https://www.rebelbetting.com/?x=keza