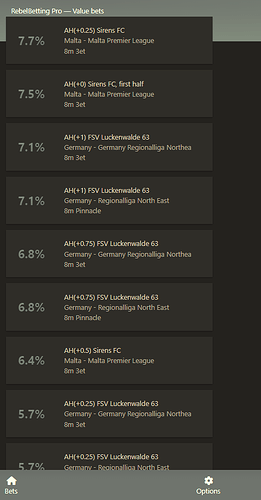 Hi guys, been using Valuebetting for a few years on and off with good consistent results, but since more and more bookies close in austria (10bet, unibet,…) and i'm pretty much at the mercy of bet365 to keep this going so i wanted to take a look at long term solutions.
I know sharp bookies have lowers margins and it is generally more difficult to make profit from what i've read. So i just wanted to see what Value bets i would get if i put in a filter for it.
After a day or so i've seen quite a lot of value bets pop up in the 5%-10% range so i wanted to ask some more experienced users what the hook is here.
Are these not the correct value percentages? (since sharps are usually the metric for value)
Are these values harder to bet since sharps correct them too quickly?
When i searched the forums for VB on Sharps it mostly comes up that you get low percentage bets, but from what I see this is not the case. Because if these are the real numbers I'm looking more into setting up Sharp accounts and spending some time there and give it a try.
Thanks for any help