Hello all, wanted to share results with the community from an American standpoint. I live in the U.S. and unfortunately, my state does not allow legalized gambling, so I am forced to use the offshore books. This limits how much I can do, but I am thankful I can use this service at all, seeing as how there would not have even been any options for me two months ago.
RESULTS
Overall, results have been fantastic! I am sharing my screenshots below, but in the last month of betting, I have $6,000+ CLV. I average about 40 bets/day for those wondering and have been using the software for just over a month.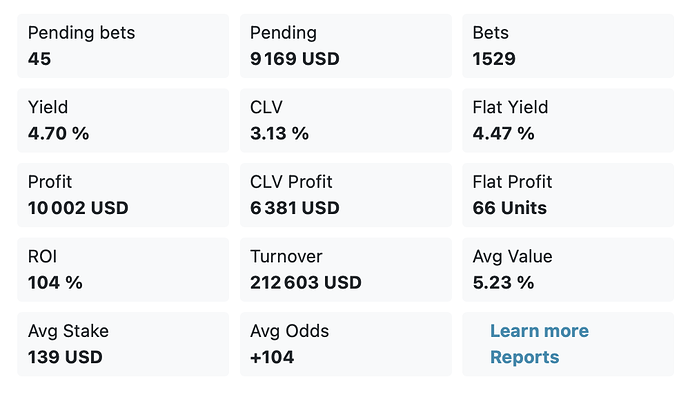 As you can see, my actual profit is currently around $10,000. I try not to even look at that too much as I know it will come back down to earth. I try to just think about the CLV. My profit has exceeded my CLV the majority of the time, which is nice, but I am prepared for that to change in the future. Currently, there is a big disparity between the two. This mostly came from two days of extreme positive variance. Since then, it has mostly followed the trend. As you can see, the two totals have crossed paths on the graph, which I feel lends credibility to the theory of CLV.
SETTINGS
My settings are as follows: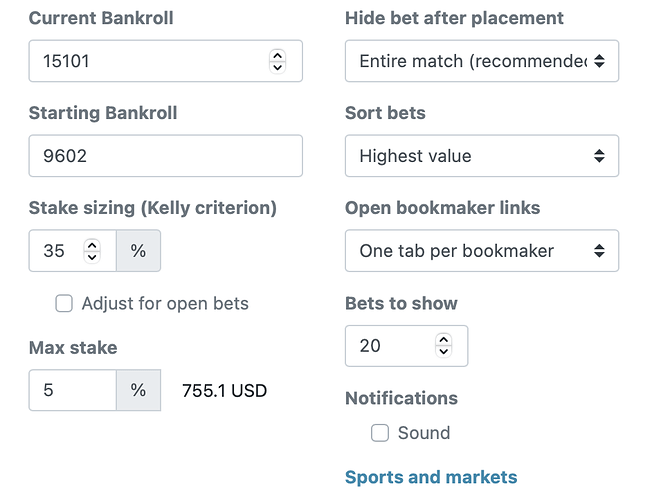 I upped my Kelly percentage recently, which I may end up changing, but I am not risk-averse in any way so I figured I would take some more risk. I also only just realized that the box to adjust for open bets was not checked. I don't recall unchecking that box, but I realized I have been operating under that structure this whole time, so I probably won't change it. I understand this means that I am essentially not using the Kelly strategy however.
BOOKMAKERS
As I said, there are not many books for U.S. bettors that do not have access to the legal books, so I can only use four books: Bovada, Betanysports, Betonline, Everygame.
Bovada has been fantastic and is my workhorse. From what I hear about Bet365, it seems to function in a similar way with this software, in that it will take you directly to the bet you are placing. This is so convenient for me, especially since I place more bets with Bovada than the other three combined. They did already limit me however after about $100,000 in turnover. I can still place many bets with them, but some value bets just get ignored because I can only bet like $25.
Betanysports has reduced juice on baseball, which gives some good opportunities. They have low limits for many sports even without being limited though.
Betonline is pretty solid, though you have to move pretty quick with this one.
Everygame is basically worthless for me as I can barely ever get a bet in, even with RB taking me directly to the page. This book is just too fast I guess. Everygame only accounts for 20 of 1500 bets.
RECOMMENDATIONS
In the future, I would love for RebelBetting to add more offshore books that cater to Americans. Some books I would love to see are BetUS, GTBets, and BetNow, amongst others. I worry that I will only be able to use this program for a few months before inevitably being limited, but this would be less of a problem if there were some more offshore books. As I said before, I am very happy RebelBetting started offering the newer ones at all, but I would love to increase the longevity of this enterprise.
I hope this helps someone in some way. I am happy to answer any questions and will hopefully get to update this post in the future.