As I am close to reaching the end of my subscription I wanted to share my results.
I would say im very happy with my results thus far, I have been beating the clv pretty much all the time and have never been on the negative. This made it alot easier to keep going (good variance), I also don't expect these kind of results for the coming months.
My ROI peaked at almost 200 % but I have had a decline this past week and am currently sitting at rought 150 %.
My experience using value betting starter is very positive, the only downside would be the amount of bets that I could place. I could've maybe changed my odds-range to get more bets, but Im pretty happy with my 2300 bets.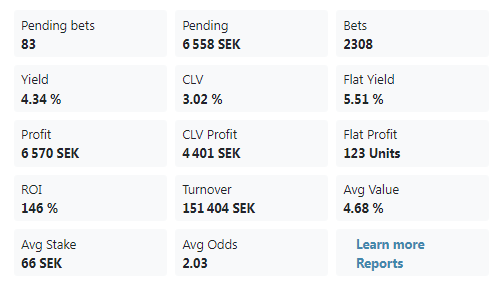 Regarding my settings, I have used the same odds range during the whole period. However I have experimented with "current bankroll" and "adjust for open bets" and im not sure how to go about it optimally.