Hi everyone!
It's been a week now since I started and have reached 500 settled bets. In the past , I did matched betting, so I figured I'd try our value betting. My experience for the first 500 bets has been horrible.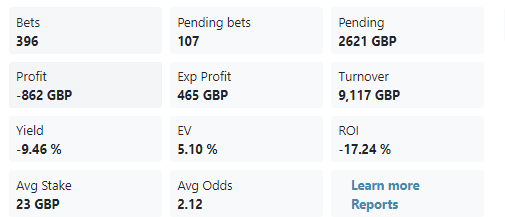 With a bankroll of £5.000 within 5 days I "gained" a £1.000 loss. Add to that the expected profit of approx. £500 and I'm down £1.500 from where I'm supposed to be.
However, having discussed with Hanna, it still within the expected variance.
And things have improved recently, looking at the 500 settled bets mark:



I'm still £1000 from where I'm supposed to be, but hopefully after 2000 bets I will be on track.
From my side, I think I made a mistake by putting max value bet on 3%. Once I hit a few unlucky £100 bet losses, it really showed. It could've gone the other way around, but it didn't. I gradually lowered it to 2.7%/2.5%/2.3%/2.2% every 50 bets.
The bookies I'm using are bet365, William Hill, betway, unibet, 888sport (recently stopped, because they started limiting how much I can bet), 10bet and marathonbet(2 days ago the limited my bets to £0.21, so I guess that's it).
The settings I use are:



For the first 3 days the timeframe was set up to 48 hours.
I realize this is a math game and have seen several examples of results going the other way (significantly higher profits than expected, but they even out after a few thousand bets.), but I wanted to show the other side as well. This can obviously happen, due to variance, but I don't recommend it if you're in a psychologically/financially bad place. Having big losses isn't fun, to put it mildly.
Still have a lot of bookies available to do bets with, so I'll continue to pile on, but we'll see what the future brings.
I'll update my results on a 1000 settled bets.