Update 11.5.2022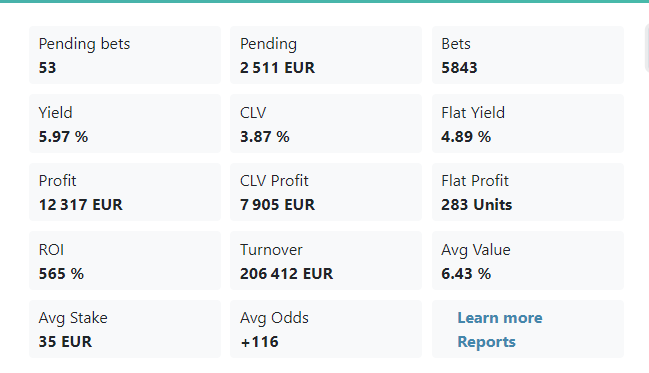 Which bookmakers are you having most success on?
Bet365, Unibet and clones, Betsafe and clones
I've changed time to match start to 24 hours, and on weekends 8 hours
Update 31.5.2022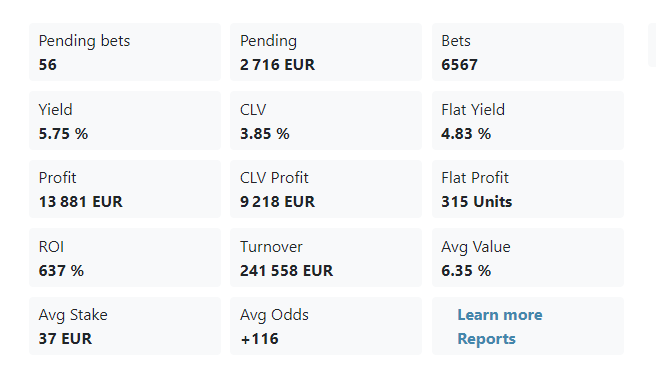 What's your settings for that?
Closer time to match start should be comfortable?
There's so few bets anyway at the moment so that's why I have it at 48h
So when you know there are plenty you change it further?
When there's alot of bets available I change it closer to match start
I got you now. That was the question.
Looking quite good on Coolbet now also, wish Rebel could get them back
https://www.instagram.com/sportsbetting_fin/

What's the current status bro?
while you say "stake is %1 of bankroll' is this your max stake or you ignore kelly and stake flat %1 everytime?
Most bets I placed on Bet365.After 2 months (3000£ profit ish) I was limited.
Then I opened new account on my friend name.I used new phone,new sim ,don't used Wi-Fi and I was limited again very quickly,after 2 weeks with profit only 300£.Every bet I rounded to 5.Any idea what I done wrong ?How to avoid to be limited very quickly?
10bet limited me after 5 days🤦🏻.,boylesport the same.Thanks
Interesting. Do you adjust for open bets when calculating your %1? Or…you know Total bankroll x %1 go brrr