Hey Everyone,
I didn't find the right topic to share some findings and improvement ideas. I came across some "phenomenon" that impacts the efficiency of my ROI negatively and betting strategy in general. I would like to share these items with you and feel free to add your comments. My intention is to bring up the improvement opportunities and discuss about it, and hope the developers will consider these ideas.
1. Some bets remain PENDING however the match had finished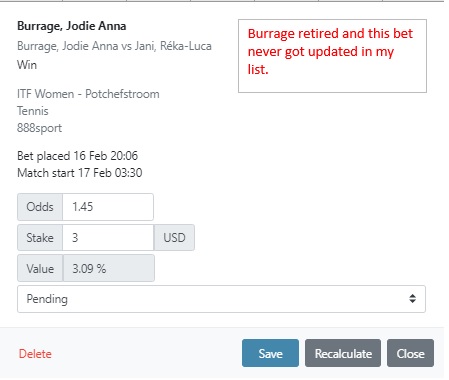 In this tennis match Burrage retired for whatever reason and Jodie Anna was promoted as winner. This kind of tennis match is common and usually gets stuck in my statistics by showing "pending". I can fix it manually and ideally it should be updated automatically.
Edit: found an E-sport match which had a pending status however it was finished the day before. Not sure why it didn't get updated in my list.
2. Another bookmaker has higher odds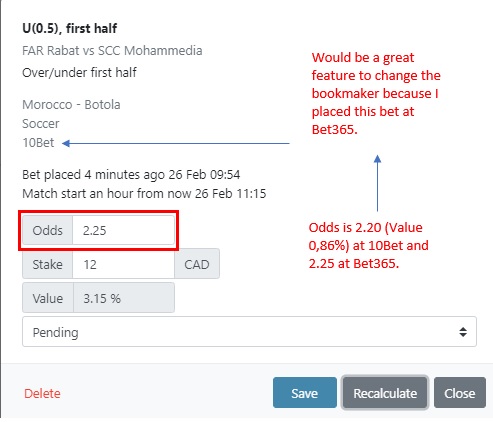 I woke up in the morning and logged all bets that accumulated while I was sleeping. Then I was about to place the bets at the bookmakers and realized this match has an odds of 2.20 at 10Bet which is still a value bet (Value=0.86% and I go for 2.00% and above) but not as high as indicated in the picture. Out of curiosity I checked this match at Bet365 and the odds was 2.25! In my statistics this bet will belong to 10Bet but it should be Bet365 for above mentioned reason.
It would be great to make this field editable so we can change the bookmaker if needed.
Changing odds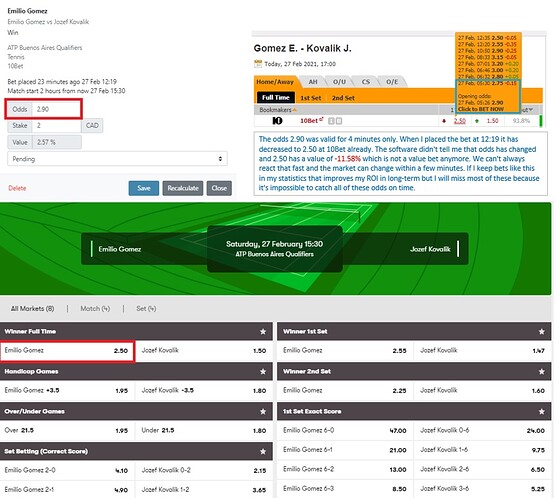 It is very typical and life like that we can't play the highest odds all the time. If the odds start to decrease after a few minutes and we are not available to act, its gone. If we are lucky we can find the same odds at another bookmaker (example #2 above) but I don't think this could be an option. The odds that is shown by the software and isn't available at the bookmaker anymore is not always recognized by the software or minutes later which is too late already.
Edit: today morning I saw a new message for the first time that I didn't see earlier: "odds change" warning with orange background. If this is a new feature then bravo

I still find odds which don't reflect the reality and is lower than the one RB software shows. I remove these odds and don't place any money on it either since these are not value bets and typically the value of these is negative.
Update: I changed strategy and first I place a bet THEN log it. In this way I don't have to remove bets from the log, however the RB software throws up odds which don't exist anymore and warning message is missing.
Thank you for reading it through, please let me know what you think.