I welcome every visitor to my blog.

It looks like Rebels offers a great place for community between players. So I thought why not start your own blog / spreadsheet / journey - actually name it whatever you want.
Let's get straight to the point, I played as a recreational bettor for many years, you probably all know that. I can see it now at the World Cup in Qatar. Every day at work I hear who has to win and the next day I just hear that another match didn't work out. It's funny when I understand that you are actually playing a game of cat and mouse with the bookies looking for value.
I have completed the first month in RB, pro version. I didn't have big eyes and I didn't expect anything from it. I am posting the results. I didn't change anything / no filters, I started with almost the same bankroll as the service itself, then I increased the bankroll a little with my bookie.
I will contact you regularly as I continue, I want to make my blog maybe an inspiration for someone or show how difficult this path is with all its pitfalls.
Here are my data for November: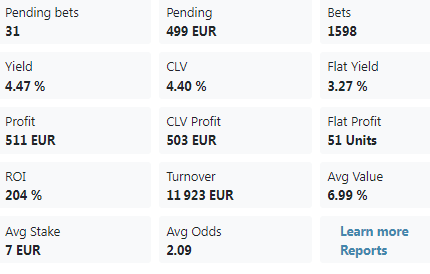 Unfortunately, as you may have noticed, I did not close value bets every day.
I work in a job where I cannot devote myself fully to RB. I don't want to open this moral dilemma yet, I take it as a test to find out what all this will entail in time, if I decided to go all in.
I'll get back to you with new data and results, I'm curious where it will go over time.
Of course, write me any questions, discussion is welcome.