Hello everybody, i want to share my experience in value betting with bet365, maybe it will help somebody on their way to get some money from bookies.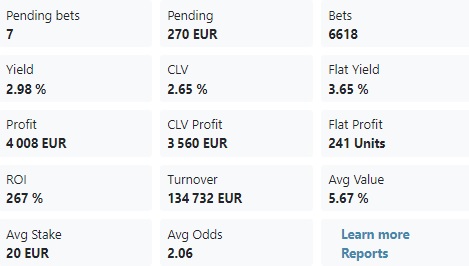 These are my results, 99% done on my first account. That one was my personal, old acc, i have also lost some money on it before, so it was true gold for this job and lasted for like 4 months. Between value, sure and casual betting i managed to withdraw like 6k and got gubbed after that. Shortly before being gubbed i received a message from bet365(3 times) that was saying that i was online too much, in fact i was always logged in from like 7 am to 11 pm.
On the second account i used everything new(phone, sim ecc). Started with sure betting in order to do some bank turnover, and a little value betting on major leagues. On this account i was never logged in, pushing the logout button after every bet. In a month i managed to "lose" 1.5k, transferring them with surebetting and a little trading on other accounts. My thought was that as long as i lose money bet365 will not care on what i am betting. Incorrect

Got gubbed after like 150 value bets. Now i'm thinking to find and buy a losing account from real people, friends maybe and check how long will it run. If you have any suggestion for me please share, thank you.