I start with € 10, now I have reached € 83.
How are you not limited??? It's impossible ahahah
I don't know why in fact.
Apart from Rebel Betting I also make other bets on my own, but one or two a day.
Maybe because in the past I lost a little …
I don't know what Bet365's parameters are for limiting you and I don't think anyone knows them.
Update to 17/10/2022
Another month ended with +€2000, not bad

.
As of 17/10/2022 I changed the stake range from 1.2 to 2.5 and reduced the stake to 0.5%.
In the 3 days since the filter change I have made 200 bets.
I hope to continue next month with these positive results.
I enclose both my table and Rebel's (the data do not match, but this is due to the fact that in my table I stopped at the first "pending" bet)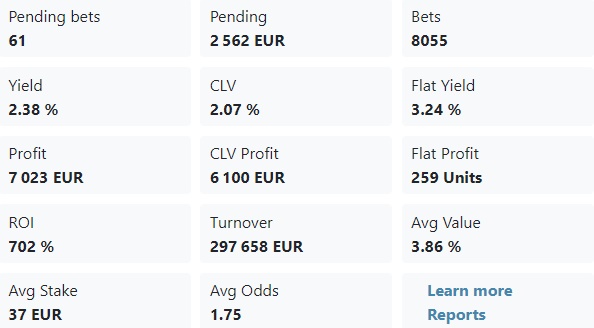 Incredible! Well done. You say you bet on all sports except Basketball. However , do you bet on all markets too? eg 1X2 which seems a bit risky, and all cup matches? And finally do you exclude any low leagues?
If not, it seems you are saying BET ON EVERY VALUE BET the system shows with those filters?
Thank you
I bet on every value bet that the software shows me with the filters I have set and play until the bankroll is exhausted.
Every market.
Yes it is a bit risky to bet my whole bankroll, during the weekend I have a hundred bets open.
But if I understand correctly, the method relies on a high amount of bets being placed, so it's a risk I'm willing to take.
I have had fluctuations of € 1600 less than the maximum I have reached.
The first few months I respected the 30% limit of open bets, then I stopped.
Hi there, impressive results! I'm currently at around half your current bets and sitting at ~£2.8k profit (although my CLV is ~£2.3k, so expecting a downswing soon). I'm interested in how you change your settings, but also the low odds you use. I use 1.4-3.0, 3% min value, 30% Kelly, adjust for open bets ON and 1.5% max bet, pretty much identical to what they recommend, however I'm curious as to why you set it to 2.0 max. Clearly it's working very well for you.
I am guilty of changing my settings to whatever i see on Community that seems to be working…Im up overall, but ever curious why we have some users betting max of 3.40 and claiming profits and some betting on baseball and basketball which makes them profit and yet I am always losing on them, over a 6 month period. If I changed my settings to user MR88 I bet I still wouldnt get the same results

Surely somewhere someone has a definitive settings strategy that works consistantly well, and not just a fluke few months? Its driving me nuts. I darent up my stakes because no settings have filled me with confidence up to present. I may try MR88s settings for a month and see what it does.
There is no particular reason for the settings I set. I wanted to start out with caution.
I set a maximum stake of 1.9/2 because at the beginning I was afraid, I didn't know what to expect, I wanted to keep the risk and volatility low.
I kept the "kelly" system for the first few months because my initial bankroll of € 1,000 is "virtual", I didn't have € 1,000 to devote to betting, so I started with a bankroll of € 300 playing as if it were € 1,000 (I chose € 300 because it was the maximum allowed with the kelly option active and a maximum stake of 1%).
I've seen the results of other people who with an average stake of 2 or more get very good results (my average stake is 1.7), so I decided to raise the stake range as well but reducing the stake (from 1% to 0.5%) and in a month I'll see if I'll continue or go back to my initial settings.
Basically I try to make as many bets as possible
I too have always wondered how it is possible with similar settings, similar bookmakers, similar odds, to have such different results.
My initial settings were cautious, but now I too have raised the odds to 2.5.
My bets went up to € 84 each.
If my settings at the end of the month brought you luck, remember to shoot me a percentage

My results defo wont be the same as yours Mate , the main reason is I am banned from Bet365


It appears there is no other Bookie with the same range of markets and odds that generate the great volume of Value Bets that they do…although I await a reply from anyone that can enlighten me and tell me of a Bookie thats similar

No matter what odds you play you should get profit. Bigger odds mean also bigger swings, lower odds mean lower profits and lower variance
Update to 17/11/2022
A super month ended with +€4000, not bad

.
I reached € 11.000 profit.
I hope to continue next month with these positive results.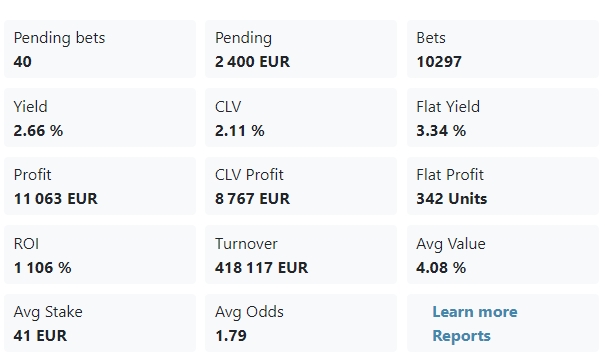 Hi
may I ask what you min and max choices were for "value percentage" and "odds". Especially during your last month with 4000+ profit. sorry it was difficult for me to work out what they were as I believe you kept tweaking them to optimise your returns?
Did you add basketball back into your bets or did you continue to leave those out?
The value bet percentage I used in the filter was always between 3% and 20% (being a 'starter' user, the maximum value is limited to 7%).
In the beginning the stake was between 1.2 and 2.0 with a stake of 1%; since mid-October 2022 the stake was between 1.2 and 2.5 with a stake of 0.5%.
I tried playing basketball and other sports for a while, but they were not profitable for me (for example: basketball I closed at the end of November with -€1,000 with 1,000 bets, the other sports have small volumes).
B365 limited my account to the end of November 2022, so I have now stopped.
I tried to register with sportmarket, but in two months I played less than 10 bets.
When you say stake was between 1.2 and 2 and mid oct to 2.5 do you mean the odds?
Ah ok so you didnt do basketball at all and you did everything else?
Ah you must be upset! cant you find a family or friend and use their account? you were making a lot of money near the end!
Or maybe try william hill? or sky?
I'm not sure what the second best bookie is
Yes I was wrong, I meant the odds.
I should point out that I played basketball for a period of time, but I only lost there (no 1000 bets, with a loss of €1,000). The other sports I played very little, put all together they don't add up to 100 bets.
When they restricted me I was really disappointed, but we all know that it happens sooner or later.
I am negotiating with a friend to get access with his B365 account, we have to agree on his percentage.
Definitely with the bankroll I would start again with 2000/3000. Hoping to get the same results.
Other books like B365 in Italy I don't think there are, certainly not as far as Asian Handicap is concerned, which alone makes up half of all my bets (6200 AH bets).
I hope as early as Monday to resume
Goodluck Mate, looking forward to your results.
I update just to say a few things:
in mid-November b365 limited me and I closed with a profit of +€14,000.

2 weeks with a friend of mine we partnered and started playing. that was also limited. I hoped it would last more than 14 days. however, the second adventure also closed in the positive by +500 €. By now the Rebel subscription lasts until mid february, so we will continue to play for fun. we will bet on all games where they let me use a stake of at least 5€. Soccer or tennis with odds of 1,2 - 2. Maybe we can pull off another € 50.

for the new adventure I had prepared an excel sheet where I copy the data from Rebel's tracker and see some statistics (a bit of work for nothing). if I can I'll attach it in case anyone would like to see or use it or whatever
RebelBetting-part2.xlsx (980.4 KB)

I tried using the sportmarket book, but it generated really very few bets and I will not continue.
If betting 5€ at the end of the month should generate me even 1€ profit (considering the cost of the subscription) I will renew for another month. Just 4 fun.