Update 20.3.22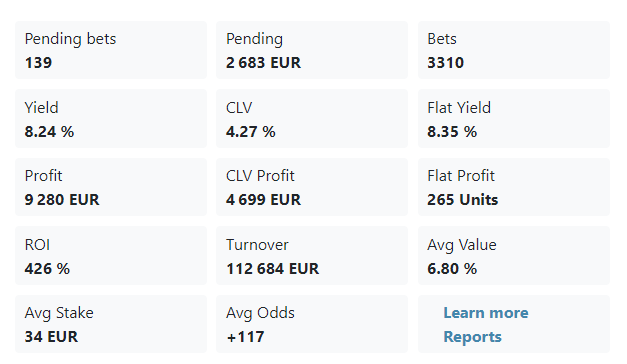 so what is ur settings now ?
can you ss please
Thank you
and what bookies you use noiw
Adjust for open bets why this not marked ? any good reason or ?
I don't see any benefits from using it tbh
its adjusting bet stake if your bankroll is big or small
I know, but I don't see why I shouldn't count my open bets to my bankroll. Also it's more simple to not use it since the max stake stays the same.
yes but when you have 50 open bets on same value here you bet less then cuz your bankroll is going abit low,
So you think its better to not use it… so all the time bets are same bet stake
Yeah, I prefer not using it

and I think most users don't use it
thank you for advice

do you also prefer on betting odds ? like try to avoid some higher odds ?
Yeah I don't bet on too high odds, <3.2 has worked fine for me so I'm going to stick with that.
Alot of high odds would cause more variance but the "CLV Profit" would still be similar as with lower odds.
and for sports ?
u do what ever it comes or you do first football then others
great !
but lets say when you get 3 values for same match for example


X team to win , X team -1 and x team -2
which value you would take ? highest % or
Limitation worries me too, I don't know what to do, Congrat for your profit
Update 25.3.2022
Was on vacation for a few days so I haven't been active at all

still managed to make a little profit the last week
https://www.instagram.com/sportsbetting_fin/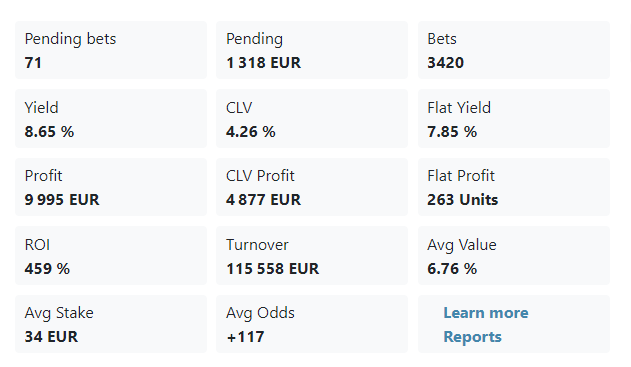 you use adjust for open bet.
No, I prefer not using it